VINTAGE and CUSTOM MOTORCYCLE ENTHUSIASTS:
VCME is now the home of Cowtown Rockers (Vintage and Custom Riders)
www.markbayermotorcycles.mysite.com Go to this site for numerous motorcycle web links.
(I) Read the Scott Logan interview on the next page!
(II) Check out the Mod's VS Rocker's page (page three)! The 2015 event will be held on Saturday September 5th, 2014. Dates and times for 2015 Mods VS Rockers planning meetings are listed below and on the right side of the page!
Our big event for 2014 was the "Mods VS Rockers: Scooters, Cafe Racers, & Bobbers" event held on Sunday October 7th. This event was held at "The City market" downtown, 20 E. 5th., KC, Mo. 64106. An "after event" party was held Sunday evening at the Sol Cantina hosting the "Quivers." We look forward to 2014!
For Information about 2016 events, go to www.markbayersmotorcyclenews.mysite.com . Please join the KCVJMC (Kansas City Vintage Japanese Motorcycle Club) on the last Sunday of every month. Specific meeting location and times are also on the above site.
(III) Check out the additional pages of pictures, resources, and links to your left!
Our associated site,www.markbayersmotorcyclenews.mysite.com has "motorcycle news" links as well as numerous other motorcycle links! Go to page two [2] which is an "events" page for a fairly complete list of local events (KC area).
(IV) The VCME is an "enthusiast" group of people who like low budget metric bikes. We are associated with anyone who likes, or builds, choppers, bobbers, rats, survival, and cafe racer's. We also like mo-peds, scooters, or other unique scooters or motorcycles of any kind. The primary intent is to share experiences, skills, and ideas with others who do the same. We want to encourage each other, give advice, and become a source for parts and different skills related to this segment of the sport. If you are a builder, want to have a bike built, or are just an enthusiast, please join us at our monthly meetings and give your two cents! We schedule individual shows, will have occasional rides, and sponsor the "Mods vs Rockers" event in Kansas City. We welcome anyone, if your bike is non metric, you are still welcome. The monthly meeting dates are listed on the lower right hand portion of this page, please join us. We will have parking space at every monthly meeting for a mini-bike show. There are no fees associated with involvement and all activity is voluntary. We assume no liability of any type for any event or activity, any involvement is your own choice. If you have any questions about this issue, discuss it with a leader prior to engaging in any VCME activity. Thank you.
VCME assumes no liability for any type of loss of any kind. Your involvement is a matter of your own free will alone. We condone safe riding practices only and any action which results in any type of accident or loss is not the responsibility of VCME or anyone associated with the group. Involvement is by your own choice and we request that anyone who is part of any activity associated with VCME follow the laws of Missouri (or any state in which there is an activity) and practice safe riding.
Web links to sister groups:
www.markbayermotorcycles.mysite.com
CHECK OUT OUR 2009 EVENTS LISTED BELOW AND TO YOUR RIGHT: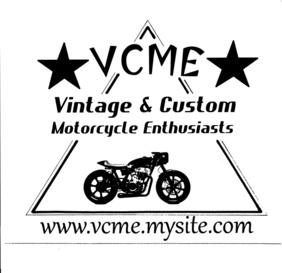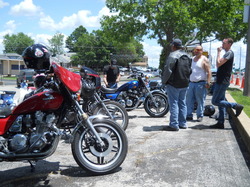 Vintage & Classic Motorcycle Enthusiasts can be contacted through the e-mail address: nkcma@yahoo.com or through hondaenthusiast@rocketmail.com
Check out the great web sites listed on the lefthand side of this page, there are some additional "motorcycle news" links on the home page of the www.markbayersmotorcyclenews.mysite.com site. The "Grand Classic Events" page also has a web link page of interesting automobile related links.
Below is a picture from our 2016 Bikes, Bands, & BBQ held on June 4th. We had several bands and around 150/200 guests throughout the day. We also raised slightly under $2,000 for MDA (the Muscular Dystrophy Association).